2 - Activate Password
Getting Started.....
To use CIT Student IT services, you will first need to activate your student password using the information below.
A step by step instructional video is also available below.
Press Play to view video
To use student IT services, you will first need to activate your Student Password as follows:
Type the address web4 in your internet browser, and follow the link for the login window. The Web for Student login screen is displayed: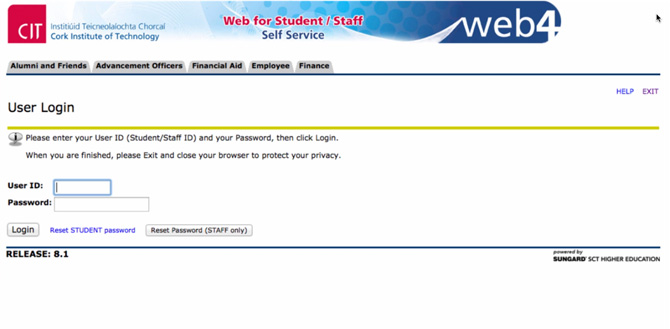 Enter your Student User ID (e.g. R00012345) and temporary password as displayed on the letter which was posted to you, and click Login.
Your initial password will now automatically expire, and you will be asked to enter a new password of your choice.

A personal welcome message will now be displayed. You have now successfully updated your password details. Click Return to Homepage to logout.
Your new password will be automatically applied to all other IT services within 15 minutes, and you can then use the same password to access your myCIT email.