Chaplaincy
A Word of Welcome
Hello and welcome to CIT. We hope your time at the Institute will be a positive and rewarding experience. Coming to college is an exciting and important step. For many it means leaving home for the first time and despite outward appearances, some find college life lonely and quite daunting initially. Chaplaincy is here to care for and support you on your journey through CIT.
Mission Statement
The Chaplaincy at Cork Institute of Technology is a dynamic presence which seeks to
Accompany students and staff on their life journey;
Offer a listening ear in a safe and welcoming environment;
Enable opportunities for Spiritual development, meaningful worship and celebration;
Provide an empathic service to each other and to the wider community.
Sacred Space on Campus
The College Chapel (Room D155) is open all day. Mass is celebrated here Monday, Tuesday and Thursday mornings @ 8.40 am during the academic year. You are most welcome to join with us. The College Chapel also provides a place for reflection or if you just want to get away and give yourself space in a peaceful environment.
The Student 'Info Desk'
T: 021 – 4335060
Location: Top of the Canteen
Opens each morning at 8.30am.
Here you will meet one of the Chaplaincy Student Support Team who will respond to whatever needs/questions you might have.
Other resources at the desk are:
Bus Timetables
Lost & Found Service
Use of Stapler/Puncher
Make an appointment (to see Nurse/Doctor/Lecturer/Chaplains and other Student Services)
Whatever the query none is too small, so approach us and see how we can help you while here at CIT.
'What's On' Newsletter:
Your free weekly guide to what's happening on campus This is a Chaplaincy Publication. Available each Monday morning at the Chaplaincy 'Info Desk'. Check it out for what is going on in: Sport /Societies/Students' Union/Chaplaincy/Info on CareersCompetitions and much more.
Chaplaincy Projects
You are welcome to get involved with us throughout the academic year in variety of projects, such as:
National/International relations; themed nights at the Chaplaincy House 'Cornerstone', 3 Elton Lawn
'Mindfulness' –for a greater selfunderstanding and peacefulness
Charity Events
Volunteering Locally & Internationally
Awareness Days
Hospitality
CornerStone'- Chaplaincy House 3, Elton Lawn
A 'Chill-Out' space! Enjoy free tea/coffee, listen to music, chat with friends. Connect with students from other countries and cultures…Free Wi-Fi
Have a look at our Logo – what do you see?
What do you think it tells you about the Chaplaincy Team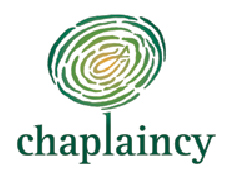 Yes, you're right; a fingerprint forms the core image of the logo. The fingerprint is representative of each individual student. Their uniqueness as people, and of their problems. The fingerprint is constructed with independent lines, that when viewed collectively actually make up the fingerprint. These are the various departments, organisations, groups that together form the community, which directly & indirectly influence & change individual students. At the centre of the fingerprint motif is a fish. This was the initial symbol of Christianity.
Notice how the motif is linked to the text through the letter 'l'. The way in which the letter 'l' extends to meet the fingerprint, creates a new image – a tree-representing nurturing and growth. These 3 symbols illustrate the multifaceted tasks of the Chaplaincy Team on a daily basis..
We look forward to meeting, if not all of you then at least some of you, throughout the year. We wish you the very best during your time here at CIT.