CIT Gym Re-opens on Bishopstown Campus
30 November, 2020
We re-open under the same guidelines we had in place prior to closure. Which means booking time slots and no use of dressing rooms. New members are welcome!
We have worked hard over the last few months in preparation for the gym opening and have introduced a strict hygiene protocol to keep standards at the highest level.
All users are expected to adhere to the above guidelines and protocols as this is for the health & safety of everyone at CIT Gym, staff, and users.
I include the below so you can familiarise yourselves with our guidelines.
Users MUST BOOK in advance Online
https://outlook.office365.com/owa/calendar/CITGym@citcampus.onmicrosoft.com/bookings/
Booking slots are a maximum of ONE hour to facilitate all users,
All users are to sign in and out each time they attend CIT Gym,
No admittance without current Staff/Student/Membership Card and prior booking via link above
Users to arrive no more than 5 minutes before allocated time,
Users must leave promptly when their one-hour session has finished,
There is NO ACCESS to changing rooms or showers, please come ready to train,
All equipment is to be wiped down before and after each use. Disinfectant & paper towels will be provided
Users must comply with all regulations and instructions from Gym Instructors,
All water bottles are to be clearly marked with your name. The water fountain in the Gym is NOT in use,
DO NOT ATTEND CIT GYM IF YOU ARE FEELING UNWELL
The above guidelines will remain in place and will be subject to ongoing review. If anything changes, we will let you know
Should you have any further questions/queries on any of the above, please do not hesitate to contact us by email gym@cit.ie
Our Online classes will continue and are free for all CIT Students and Staff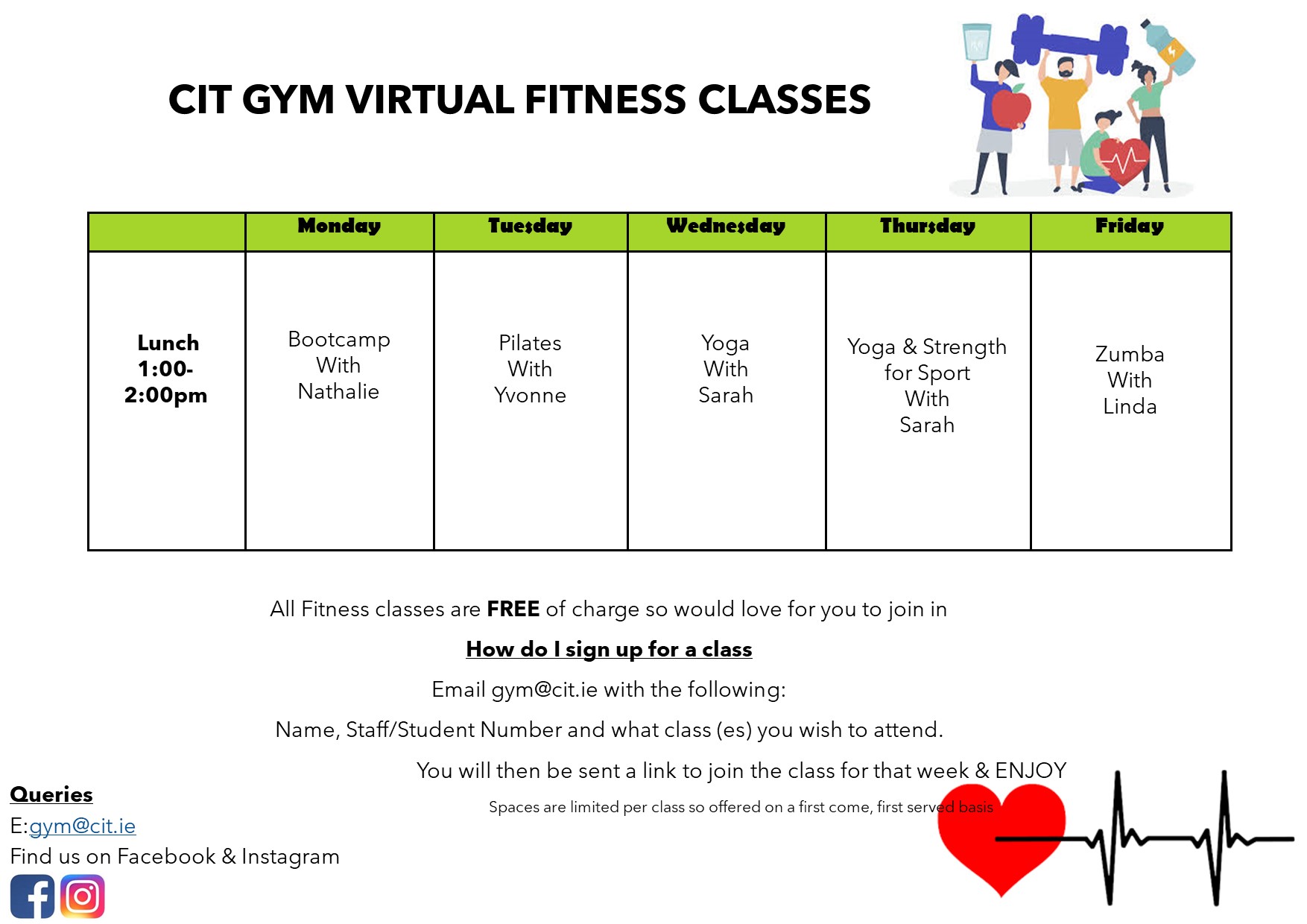 Kind regards,
Norma, Janet, Andrea, Nathalie, Stephanie, Luke & Charley