MTU Student Email
What is myCIT email?
Gmail is Google's email system. CIT, in association with Google, offer every student a myCIT email account based on Gmail. If you are a first time user of Gmail or myCIT, there are a number of tutorials available online which will help you to get fully set up and utilising your myCIT account to its full potential.
Where do I log in to my Gmail/myCIT account?
If you are a currently enrolled student, you can login through myCIT by going to http://mail.mycit.ie
Current Students: Log in with your student ID (e.g. R00123456) and your CIT computer password.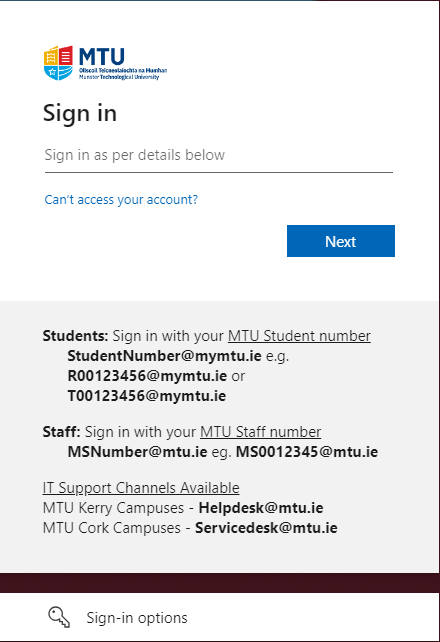 1. In the Student ID field, enter your student ID number (if you are unsure of your student number, you will find it under the picture on your student card).
2. In the Password field, enter your PIN/password.
3. Click Sign In. The following screen will be displayed:
4. Type the characters you see in the picture. For example in the picture above, the characters are maggicat.
5. Click on I accept. Create my account.
6. Your inbox will open and your myCIT account is now ready to use.
Alternatively you can use our Student Portal webpage.
Student Alumni
If you are an alumnus of CIT, you can log in to your email by visiting http://mail.mycit.ie
Log in with your username (e.g. firstname.surname) and your original Gmail/myCIT password.
Getting Started
Compose Mail opens a new message. If you're feeling shaky, you can read more to brush up on sending messages.
Inbox shows your conversations (the number in parentheses indicates how many unread messages you have).
Starred shows you only messages you've marked with a star (you can use stars to mean whatever you'd like).
Sent Mail shows messages you've sent.
Drafts houses messages you've started and saved to work on later.
Customized labels show labels you've created (e.g. 'Coupons' or 'Travel').
Spam is where we send the messages we think are suspicious.
Trash is where messages you delete end up; you can empty the trash whenever you feel like it.
Contacts lists the email addresses of people you've corresponded with; you can add more details as you see fit.
Tasks lets you enter and track to-do lists.
Chats lists your archived Chat conversations.
How do I deal with spam?
Google and CIT have effective spam filters which work to prevent unwanted emails from entering the system. However, if you do receive spam messages in your Inbox, you are advised to Report Spam using the link provided. This will also help Google to prevent further spam.
Please note that important communications from CIT administration will be sent to your CIT email address and you are strongly advised to check your mailbox regularly.
Google Apps: Chat
Google's chat network lets you send and receive instant messages to and from friends, family, and fellow students. Exchange real time notes and emoticons with anyone on the network using myCIT. If you'd rather communicate face-to-face with your friends, you can do that too using the free voice and video chat feature in Google Apps. To start voice and video chatting with your friends, simply download the voice and video chat plug-in. Your friends can be anywhere in the world, and you can talk for as long as you want.
Google Apps: Labels
Labels do all the work folders do and give you an extra bonus: you can add more than one label to a conversation. Once you've created a label, you can view all the messages with that label by clicking the label name along the left side of your myCIT account. To assign a label, drag the label you require to the email and drop.
Important Information
CIT recommends that you sign out once you have finished using your email account. The Sign Out button can be found on the top right-hand corner of your myCIT account screen. Once this is done, you will automatically be taken to the screen displayed below. Please pay particular attention to this screen, as this does not mean you are fully signed out of your account. To fully sign out, you will need to close all your browser's windows.
If you are logged onto a computer within CIT you will need to completely close all browser windows and it is imperative that you log off the computer when you are finished to protect your account.
Please note that IT Services recommends you backup all your work on a number of devices. We recommend saving important files in your email account (as an attachment in an email to yourself, for example) or in Google Documents, as this rules out the need for a removable disc. You will then have your important files online in your myCIT email account, making them accessible anywhere and at any time.
Who do I contact for support?
If you have a problem with your password or accessing your account, please contact IT Services.
You may also contact us directly on our webpage by clicking here.
For students, we also have a walk in service desk located within Open Access in the IT Berkeley Centre.
Academic opening hours:
Monday to Friday: 8.30AM - 9.45PM
Saturday: 9AM - 5PM
Summer opening hours:
Monday to Friday: 9AM - 5PM