Free Online CIT Gym Classes
30 October, 2020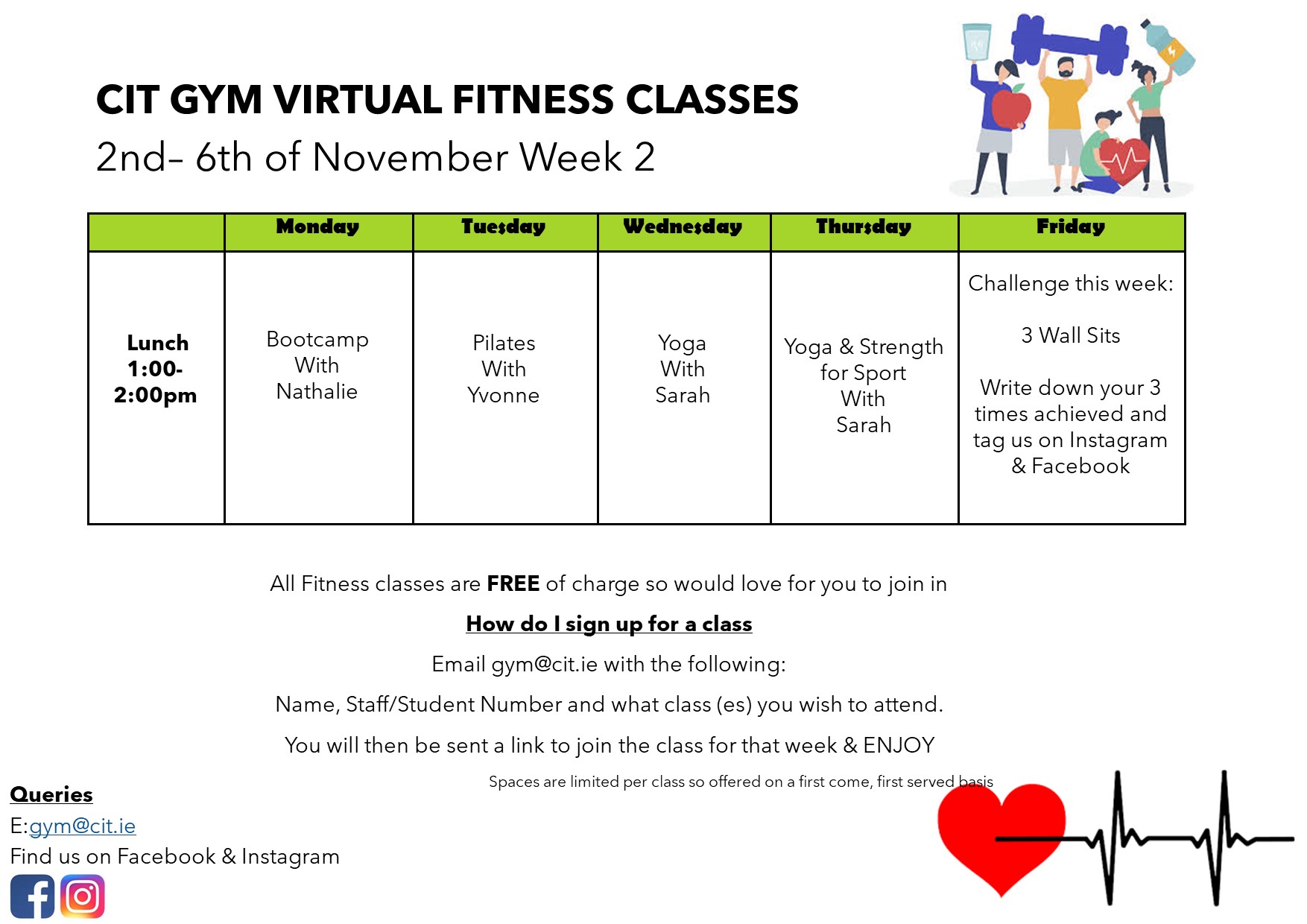 Two new classes have been added to next week's schedule: Bootcamp and Yoga & Strength for Sport.
Bootcamp is back with Nathalie. If you've been to her class in person, you know you will work up a sweat! Once you sign-up we will send you the workout plan on Monday morning so you can gather any weights or equipment needed (fill water bottles as weights etc). Weights are not essential but will add a challenge.

Yoga & Strength for Sport
Is for anyone who is missing training for their sport, be it golf, swimming, weight training etc. This class will teach you exercises and ranges of movement beneficial to your sport. Think of it as 'off season' training. So, while it is unfortunate you can't get to the gym or a pool right now, you can still train and prepare for your sport but just in a different way.
This practice marries yoga flow with strength training. By using yoga poses and strength training principles combined, we will recruit muscles rather than lengthening them or passively dropping into end range flexibility. The outcome is strengthening our whole body, but particularly glutes and lateral hip rotators plus core including the deeper layers like pelvic floor and transverse abdominis. Sarah will make this fun and dynamic. All levels welcome. No previous experience of yoga required.
Any questions on any of the above, just give us a shout. We will send next week's Pilates & Yoga link to those who participated this week so no need to sign up again to those. New participants are very welcome each week.
Our challenge next Friday is 3 Wall Sits.
How to do a wall sit: Stand with your back flat against a wall. Walk your feet out so that when you sit down your legs are bent at a 90-degree angle. Your feet will be about two feet in front of you and about shoulder/hip width apart. Hold that position, time yourself. Come out of the position, stretch, re-set and repeat two more times. Tag CITgym and your times on Workvivo, Facebook or Instagram. If not into social media, no problem, just email your times to gym@cit.ie.
Benefits of a wall Sit:
Helps maintain/build strength and endurance in quadriceps, glutes, calves, hamstrings, and adductor muscles. You are contracting and tensing those muscle groups but not changing the length of those muscles. The joints affected, knees and hips don't move.
An example of one exercise that you probably don't often include when training in a gym, however a nice challenge to bring to your home workouts.