Registering for Electives
Your Modules
Check your myCIT.ie email account for instructions on how to enrol online for Electives (if you have them in Semester 1). Students must check on Web4student that they are enrolled for ALL MODULES in Semester 1 by Friday 7th October 2022, and for ALL Semester 2 modules by 3rd February 2023. Add any missing modules (get the CRN from your lecturer).
All students doing Exams Only or Repeating a module(s) in 2022/23, RPL applications, Project Only, and all Postgraduates, must ensure they are enrolled by the deadline.

Please check your enrolment on web4student after 16th September 2022.
Register Online for Semester Electives
To register online for semester electives, follow the steps below:
In your Internet browser, go to http://web4.cit.ie

In the User Login screen, enter your login details (your username is your student ID with a capital R, e.g. R00012345 and your password is your normal password).

When you have successfully logged in, follow the menu path below to access the "Elective Enrolment" screen:
STUDENT SERVICES & FINANCIAL AID --> REGISTRATION --> SELECT TERM--> Select ACADEMIC YEAR 2021-2022 and click SUBMIT --> ELECTIVE REGISTRATION.

Enter the 5-digit CRN code(s) for your chosen electives in the spaces provided. (The CRN code can be obtained from your lecturer in class. Please note you only need to register for First Semester electives at this time - registration for Second Semester electives will take place during January 2022).

When you have entered the CRN code(s), click SUBMIT CHANGES.

To view your updated registration record, go back to the REGISTRATION menu and click STUDENT DETAIL SCHEDULE. Scroll down the page to see a list of the mandatory and elective modules for which you are now registered.
Do not remove any mandatory Semester 1 and Semester 2 modules.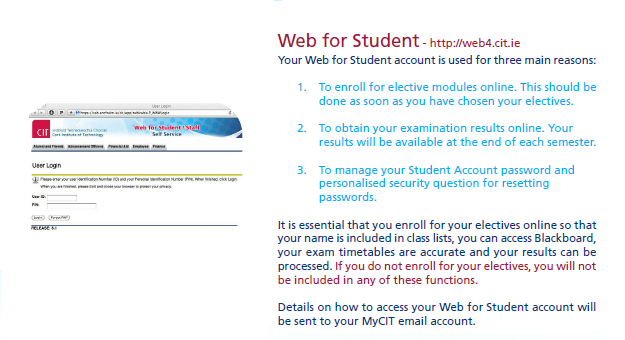 If you do not register for your electives, the consequences are as follows:
You will not appear on class lists, and so will not be included on any email communication from your lecturer.
Your lecturer will be unable to enter your assessment marks on the system.
You will not have access to Canvas e-learning for that module.
You will not be included on the examination schedule for the module at end of semester.
For more information please see admissions/module-enrolment