Autumn Careers Fair 2022 MTU Cork Campus
08 July, 2022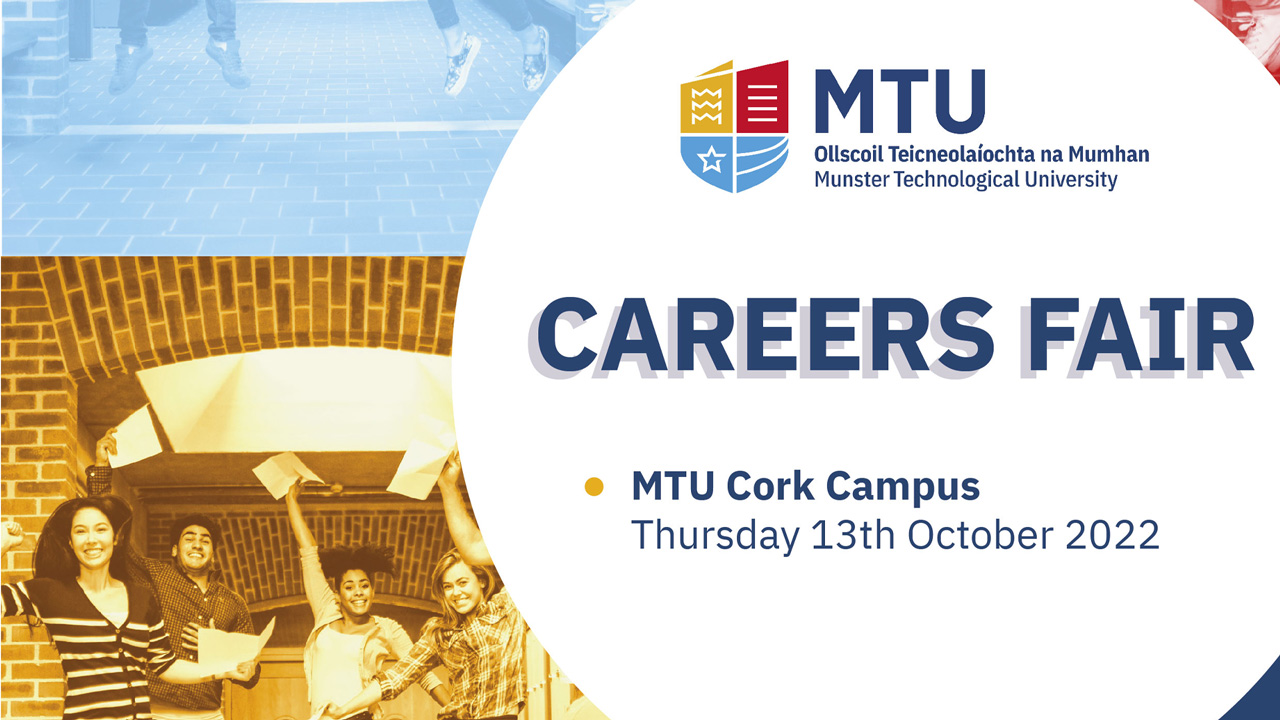 Autumn Careers Fair 2022 (Cork Campus)
Date: Thursday, 13th October 2022
Time: 10:30AM to 3:00PM
Hosted by: MTU Careers Service | Cork Campus
IMPORTANT DATES
Careers Fair MTU Cork campus |Thursday13th of October 2022|
Booking Page - Open Now - Summer 2022
Deadline Friday, 30th September 2022: In the event of cancellation, a refund will be issued, provided that the cancellation request is received by email at careerscork@mtu.ie
Careers Fair 2022, FAQs
Employers: Book your place!
To find out more about this year's fair and booking information, visit link:
Quick Booking Steps: We suggest you pay by credit card, via add to cart option. If you wish to be invoiced please complete this form: Issue Invoice
Do you have any questions? Follow link: Employers FAQs
MTU Students: Are you READY for the Careers fair?
Join us for another exciting year of the MTU Autumn Fair 2022!
Employers from all over Ireland, and abroad will be attending the Careers fair. Get unique insights and chats with recruiters that will help you tailor your future applications!
WHAT TO BRING
An up-to-date professional CV – max 2 pages – have you had it checked by a Careers Advisor?
A list of the companies you want to target, numbered in order of priority.
Some knowledge of your target companies – what they do, qualifications they need, where they are located, latest news etc.
Phone, tablet or paper to take notes after visiting each stand. Ask for a business card and if none is available, write down the name and job role of each person you talk to. Take notes on what you learn about the company. This will be really useful later.
Top Tips for making a good impression
Introduce Yourself:
Practice what you will say about yourself – your name, the degree that you are studying, your relevant work experience & your key skills – from part time jobs or hobbies/activities.
Be Professional:
Dress smartly. Ask relevant questions about the company. Listen well so you answer their questions fully. Make the most of this chance to connect and leave a good impression.
Think Outside the Box:
Don't assume a company isn't interested in your degree – most companies have jobs in a variety of roles, perhaps you need a different contact name in the company for your area. Ask about opportunities.
Stay Friendly & Polite:
Smile and speak clearly: The Careers Fair can be noisy, so make sure to put extra volume in your voice. Remember that you know your knowledge and experiences best, so let them know. Finish by thanking the employer for their time!
7 QUESTIONS to Ask Employers
FINAL YEAR STUDENTS
Will you be hiring graduates next year?
What level of qualifications are you looking for? E.g. Level 6, 7, 8, 9, etc.
Do you require specific results? E.g. 1H, 2:1, 2:2, Distinction, Merit 1, etc.
How important is work placement or relevant work experience?
What do you like about working in the company?
Do you get to go on training courses or travel with the job?
When will the jobs be advertised and how do I apply?
Y2 & Y3 STUDENTS
Do you offer internships in your company?
What types of roles are they and for how long?
Do you know yet how many positions will be available next summer?
Are the internships paid?
When is the right time to apply?
Do you need to see the results of modules on my CV or is the overall grade enough?
Who do I contact for more information or to apply for summer work experience?
9 QUESTIONS on Graduate Programmes
When is the closing date for next year's graduate programme?
How many places will be available?
What types of assessments do you use?
What are the priorities for you in terms of skills and personal qualities?
What is the structure of the programme
How long does it run for?
What type of training is provided?
Is the programme in one location or various locations?
Will there be opportunities to progress in the company afterwards