Student Website Colour Viewing Licence
(ORIGINALLY DISPLAYED ON MYCIT STUDENT WEBSITE & FACEBOOK AS 1ST APRIL 2014 JOKE)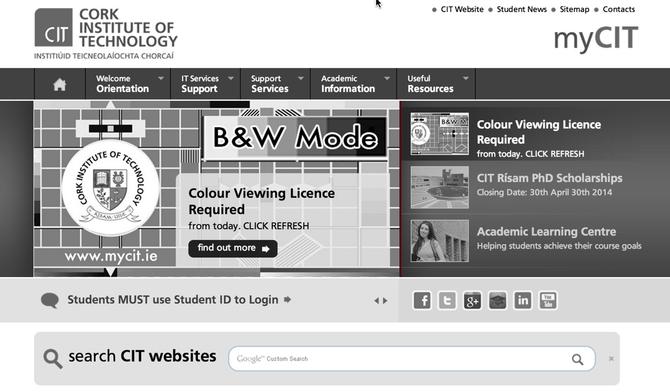 Cork Institute of Technology has announced that as of April 1 2014, students will be required to have a Colour Viewing Licence in order to view content on the myCIT student website in full colour. Students without a suitable licence will be forced to use the website in Black & White mode.
Following a recent study undertaken in the United States, which found the US government could save $370m by simply changing a font on printed materials, a similar study was undertaken to reduce costs on our student websites. The CIT study found that significant data transmission savings could be achieved by delivering content on our websites in Black and White (greyscale) mode.
A spokesperson for CIT stated; "It is estimated that approximately 17c per student per year can be saved by delivering content in greyscale mode. While this may not sound exorbitant, every cent counts when you factor in the entire student body. Students who wish to avail of a premium user experience in colour will be accommodated through the purchase of Colour Viewing Licences. The cost for licences should not be excessively expensive for the average student, but we will need to factor in an administration surcharge, printing of licences, and credit card handling fees. We are also considering Pay-Per-View options for students who only wish to occasionally view content in colour."
Pricing will be announced later today and students are advised to register their interest in receiving Colour Viewing Licences in the application form below. Registered students will be able to access the website in full colour mode from April 2 2014.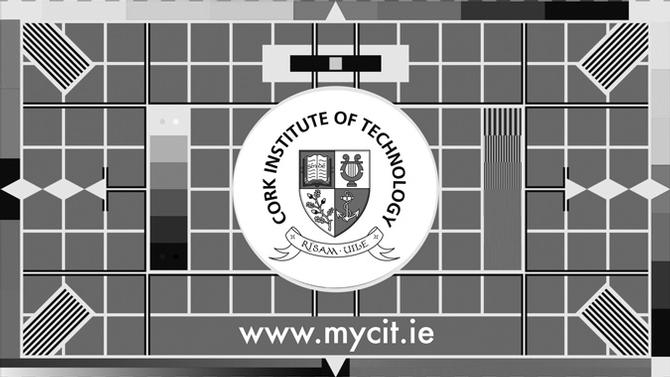 This was great "@CIT_ie: Colour restored to #myCIT website. Click refresh in browser if needed. Happy #AprilFoolsDay pic.twitter.com/2VeWSPRXwm"

— Karl Preston (@Preston_Karl) April 1, 2014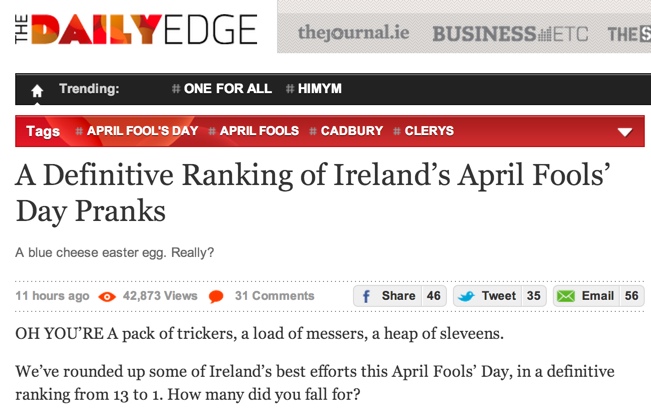 The website was also featured on the homepage of Oxygen.ie