New/Incoming students
If you need any supports for your studies at MTU because of your learning difference, health condition or disability you will need to apply to the Disability Support Service (DSS) once you have received your MTU Cork campus place. The DSS application form for 2022/23 will be available in early September (due to the delay in CAO round 1 offers).
Information for students starting in September 2022 will be updated on this webpage by mid/late August.
If you need an academic personal assistant for physical tasks, sign language interpreters, physical access to campus/buildings, or mobility training, please email dssCork@mtu.ie as soon as possible so we can arrange an early Needs Assessment with you before university starts.
The DSS 2021/22 Student Guide gives a good overview of DSS/MTU supports. The 2022/23 guide will be available in late August.
If you have a specific query please email dssCork@mtu.ie with your name, date of birth, and CAO/MTU student number.
MTU Cork Campus admissions - course registration information for new first years and advance entry
2022/23 events
We are hoping to run an orientation and other events for students and parents on campus as well as online in mid September. Details will be confirmed here by the end of August.
The 2021 information below will give you a good indication of what we might cover.
New Student DSS Orientation 2021:
In 2021 we had two Zoom Orientations for new MTU students in September. The orientations included an opportunity to meet the DSS team, find out a bit more about the DSS, and hear from current MTU DSS students. An edited recording of one of the events is below.
Transitions programme for new students on the autism spectrum - 2021
The DSS has a transitions programme for autistic students who are new to MTU Cork campus in 2021.
Download the PREPARE guide for 2021 (PDF - 1MB)
Transitions programme talk for students and parents /guardians 30 September 2021- slides (PDF - 2 MB)
Parents/Guardians information 2021
An online Parents/Guardians information night was on Monday 20th September 6.00-7.00pm.
Slides of the presentation (PDF - 1.6MB)
If you have any questions please email dssCork@mtu.ie But please be aware of the confidential nature of our service we can only discuss details of student with their written permission.
College Preparation Sessions SEPTEMBER 2021
The DSS is also ran a number of online workshops for new students before they started university.
These include College Preparations sessions on tips for academic and self management skills with Learning support and Transitions support staff, and Assistive technology tools demonstrations with the Assistive Technology Officer.
Resources are available on the DSS Canvas module and Learning Support and Assistive Technology pages. Students can contact the DSS for instructions on how to enrol on the module
_______________________________________________________________________________________
DSS supports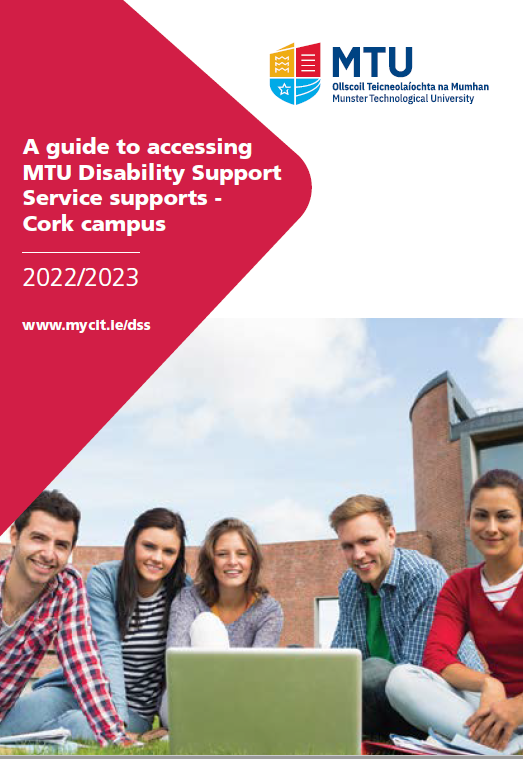 Information about the MTU Cork DSS supports is in our guide.
Our website has information about the different supports and information that might apply to you.
If you think you need supports/ reasonable accommodations for accessing your course, your lectures, or exams you must apply to the DSS in order to access these.
See our Applying for Supports webpage.
CAO and DARE information and offers
Information about the DARE places available and the offers process is on our webpage: www.cit.ie/dare
If you are eligible for DARE you will be considered for reduced points places if needed and these offers will be made in the CAO round 1.
Students who are or who are not eligible for DARE who get a MTU place on their own merit are welcome to apply for DSS supports.
For more information about starting a course at MTU Cork in the new academic year please see the Admissions webpage and you can also e-mail them at AdmissionsCork@mtu.ie or make an appointment to speak to someone on their page.
Student accommodation
If you need accommodation in Cork and have not secured this so far please be aware that there is a severe shortage of accommodation for students. The MTU Cork Student Accommodation office has information on their website.
Unfortunately the DSS was unable to come to an agreement with private student accommodation providers ,so we cannot help students to source accommodation.
DSS Queries
If you have any queries please email dssCork@mtu.ie and please include your name, date of birth and CAO number.